Warszawa, Praga-Północ, Brzeska
New two-room, air-conditioned apartment for a couple or single
Building and location
Patio Praga is a new building located in the heart of the historical part of Prague North. The recent revitalization of the area has resulted in the creation of such places as "Centrum Praskie Koneser" with many shops, service points and cultural attractions. The neighboring Ząbkowska Street is a charming part of Prague – full of restaurants and bars. The Skaryszewski Park is also within a 10-minute walk. The neighborhood is historically and culturally interesting. Rich in places to spend free time.
This area is perfectly connected with the rest of Warsaw: Metro, Tram, Bus, Dworzec Wschodni station. It is a place for people looking for an attractive and original location, focusing on the convenience of living in the city center.
The property is located in an intimate, monitored building with simple and elegant architecture with a yard, which is a green zone developed exclusively for residents. There are parking spaces on the underground floor with a convenient driveway for cars. The entrance to the building is a representative hall with a reception desk.
Flat
It is a new, freshly finished two-room apartment for which we are looking for the first tenant. The whole has been finished to a higher standard with the use of good quality materials and attention to detail. The contemporary style of finishing the apartment adapted to the building and its surroundings, combined with its functionality, will ensure comfort for the residents.
Kitchen furniture made to measure provides ample storage space and worktops on an additional island. It is equipped with a designer Gorenje fridge / freezer, induction hob, dishwasher and oven. The whole space is open to the living room.
The daily area (30 m2) is a relaxation zone with a separate dining area. It has been equipped with a comfortable and modern sofa, coffee table and TV cabinet. Large windows lead to a spacious balcony with southern exposure, which provides good lighting for the apartment throughout the day.
In the hall (4 m2) there is a wardrobe and a place to sit.
The bedroom (12 m2) with a spacious wardrobe is equipped with a full-width bed (140 cm). The window does not face the street directly, which ensures peace and comfort.
A bathroom (4 m2) with a shower equipped with a rain shower will ensure comfort of use. It is additionally equipped with a Beko washing machine with a drying function.
Additional information:
The rent includes advance payments for administration fees
In addition, the above-standard consumption of water and heating is payable.
The apartment includes one parking space in the underground garage – extra PLN 150 per month.
Additional data
Bright kitchen: Yes
Furnishings: Yes
Balcony: 1
Underground parking: 1
Elevator: Yes
Adapted: Yes
Condition: perfect
Location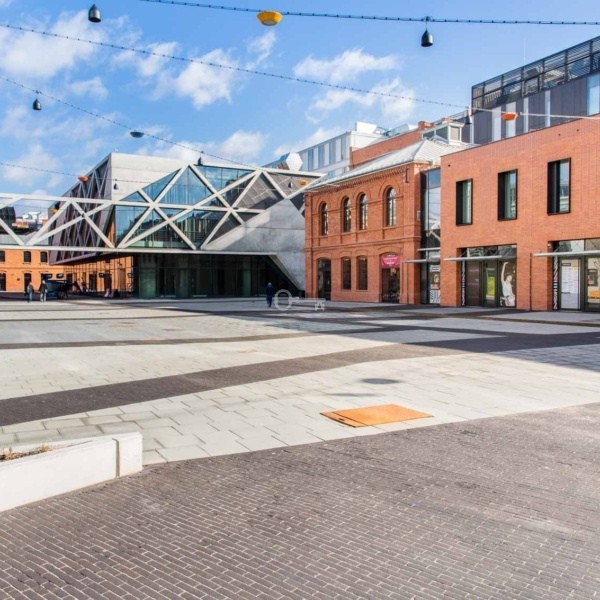 Warszawa
Praga-Północ
Praga Północ położona jest po prawej stronie Wisły, sąsiaduje od południa z Pragą Południe , od północy z Białołęką. Praga Północ, przede wszystkim charakteryzuje się, ocalałą podczas II wojny światowej, zabudową. Cieszy oko nie tylko mieszkańców, ale i turystów, którzy odkrywają dawną Warszawę przechadzając się uliczkami. Osią dzielnicy jest ulica Targowa, wzdłuż której znajdują się zabytkowe kamieniczki jeszcze z XIX wieku. Na Targowej mieści się najstarszy dom mieszkalny, w którym obecnie siedzibę ma Muzeum Warszawskiej Pragi i Bazar Różyckiego.
Offer no: 478975
The above proposal is not a commercial offer within the meaning of the law but is for information purposes. Partners International Sp. z o.o. makes every effort to ensure that the content presented in our offers is current and reliable. Data on offers was obtained on the basis of statements of the sellers.