Warszawa, Praga-Północ, Port Praski
70m2 | Praga Port | High Standard
ELEGANT, MODERN, COMFORTABLY FURNISHED 3- ROOM APARTMENT, LOCATED IN A PRESTIGIOUS INVESTMENT – PORT PRASKI.
Close to Vistula River | Prestigious location | Elegant design | Reception | Parking space
*****
LAYOUT

* Living room with fully equipped kitchen and glassed loggia
* Bedroom
* Guests room with sofa bed
* 2 bathrooms
* Utility room
* Hallway with spacious, glazed closet
STANDARD
Modern interior was designed by an architectural office in industrial style, using high-class finishing materials, in very high standard and
with attention to every detail. The apartment is two-sided (north-south exposure). Terrace surrounded by glass balustrade overlooking the panorama of the left side of Warsaw.
This fully furnished apartment is perfect for those who appreciate comfortable living in a stylish interior located in the city center and want to reach everywhere by walking, public transport, or bicycle. Great for a couple, single or married with a child.
LOCATION
Location, right by the Świętokrzyski Bridge, proximity to Saska Kępa and Powiśle, beautiful view of the Vistula River and the center of Warsaw. Port Praski investment, which won an award for the most ambitious architectural realizations, makes this apartment will steal the heart of even the most demanding customers.
In the area, there are numerous restaurants, cafes, clubs, cinemas, and theaters. Convenient public transport (within range of 2 stations of the second line metro), ensuring fast connection to the left bank of the capital.
ADDITIONAL INFORMATION
– To the apartment belongs a parking space in the underground garage,
– One-month security deposit is required,
– To the rental price please add the cost of media consumption (electricity, Internet, TV),
– Available from now.
Highly recommend!
Additional data
Bright kitchen: Yes
Furnishings: Yes
Underground parking: 1
Garage: 1
Intercom: Yes
Guarded: Yes
Reception: Yes
Video intercom: Yes
Gated: Yes
Secure door: Yes
Blinds: Yes
Grating: Yes
Video cameras: Yes
Monitoring: Yes
Alarm: Yes
Elevator
Condition: very good
Phone: Yes
Internet: Yes
Television: Yes
Water: Yes
Current: Yes
Sewerage: Yes
Park: Yes
Bus: Yes
Suburban railway: Yes
Subway: Yes
Tram: Yes
Railway: Yes
Fitness nearby: Yes
Pool nearby: Yes
Bank nearby: Yes
Pharmacy nearby: Yes
Nursery nearby: Yes
Kindergarten nearby: Yes
Primary school nearby: Yes
University nearby: Yes
Grocery nearby: Yes
Location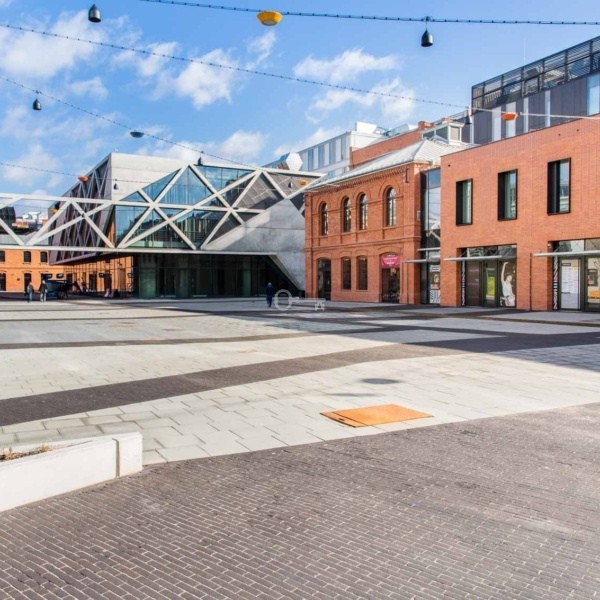 Warszawa
Praga-Północ
Praga Północ położona jest po prawej stronie Wisły, sąsiaduje od południa z Pragą Południe , od północy z Białołęką. Praga Północ, przede wszystkim charakteryzuje się, ocalałą podczas II wojny światowej, zabudową. Cieszy oko nie tylko mieszkańców, ale i turystów, którzy odkrywają dawną Warszawę przechadzając się uliczkami. Osią dzielnicy jest ulica Targowa, wzdłuż której znajdują się zabytkowe kamieniczki jeszcze z XIX wieku. Na Targowej mieści się najstarszy dom mieszkalny, w którym obecnie siedzibę ma Muzeum Warszawskiej Pragi i Bazar Różyckiego.
Offer no: 104266
The above proposal is not a commercial offer within the meaning of the law but is for information purposes. Partners International Sp. z o.o. makes every effort to ensure that the content presented in our offers is current and reliable. Data on offers was obtained on the basis of statements of the sellers.