Sopot, Sopot Dolny, Floriana Ceynowy
Nietuzinkowy apartament 150m od plaży w Sopocie
Exceptional and tasteful, 4-room apartment with an area of 85.72m2, arranged with great taste, located on the second floor of a restored building from 1920r, located in a quiet and peaceful part of Lower Sopot, at Floriana Ceynowy street, at a distance of 150 m. from the sea and the strict city center.
.
DESCRIPTION OF THE PROPERTY:
.
The apartment consists of: a spacious and bright living room (25m2) combined with a kitchenette, three bedrooms (19m2, 12m2, 9m2), 2 bathrooms (6m2 and 5m2), an entrance hall, a utility room and a glazed veranda. The living room space has been divided into a lounge area with a comfortable sofa, rtv and tv table, an armchair and a coffee table, as well as a kitchen-dining area with a folding table that can seat 4-6 people. The kitchenette was arranged in a way that refers to the decor of the entire room. It was built with classic furniture in white and gray and equipped with high-end household appliances (induction hob, dishwasher, refrigerator-freezer, oven, hood). The living room leads out to a soporific, sunny, glazed veranda. Quiet and comfortable bedrooms, with large double beds, are conducive to relaxation after a long, eventful day. The master bedroom includes a private bathroom with a bathtub. In the second aesthetic and functional bathroom, the comfort of the morning toilet will provide residents with a large shower.
.
From the entrance, attention is drawn to the original preserved wooden floor, which gives warmth to the interior, elegant stucco on the walls and ceilings, original radiators and door woodwork. Large glazing and enlarged windows bring sunshine into the interior, and high ceilings of 3.3 meters further enlarge the space.
.
The apartment was designed by professionals who took care of the smallest details. The interior is carefully finished, decorated with taste, custom-made furniture made of high quality materials was used. The whole in a classic style with elegant touches. All elements of the apartment function in harmony with each other, consistent aesthetics and color schemes.
.
LOCATION:
.
The location of the property allows its residents to enjoy the leisure advantages of the Sopot resort – sea and sandy beach, park, cafes, restaurants, tennis courts, walks on Monte Cassino. An ideal place for people looking for isolation from the hustle and bustle of the city, but at the same time like to be close to the most important events.
INF.ADDITIONAL:
The apartment house after a general renovation of the facade and roof. Parking space on the street, in front of the building, available only to residents. The property is fenced, the entrance is secured with an intercom. To the apartment belong two basements (about 10m2).
The price of the apartment includes all equipment.
.
The property is ideal both as a second home, but also as an investment for rent or for daily living.
.
.
Additional data
Bright kitchen: Yes
Furnishings: Yes
Loggia: 1
Basement: 2
Parking: 1
Intercom: Yes
Video cameras: Yes
Monitoring: Yes
Condition: high standard
Phone: Yes
Internet: Yes
Television: Yes
Gas: Yes
Water: Yes
Current: Yes
Sewerage: Yes
Forest: Yes
Park: Yes
Suburban railway: Yes
Trolleybus: Yes
Railway: Yes
Fitness nearby: Yes
Pool nearby: Yes
Bank nearby: Yes
Pharmacy nearby: Yes
Nursery nearby: Yes
Kindergarten nearby: Yes
Primary school nearby: Yes
University nearby: Yes
Grocery nearby: Yes
Location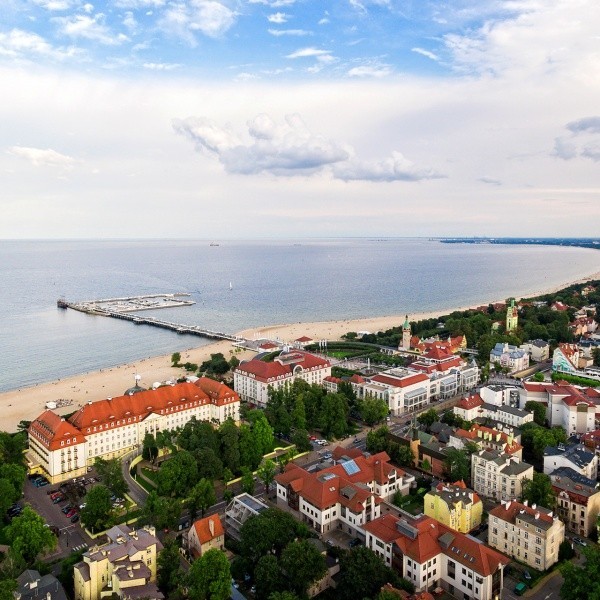 Sopot
Sopot Dolny
Główna dzielnica Sopotu, w jej obrębie znajduje się najdłuższe molo w Europie o drewnianej konstrukcji. W pasie nadmorskim dzielnicy znajdują się hotele, domy wypoczynkowe i  pensjonaty. Osią dzielnicy jest deptak ul. Bohaterów Monte Cassino, którego przedłużenie stanowi najbardziej znany obiekt - wychodzące na wody Zatoki Gdańskiej drewniane molo.
Offer no: 706941
The above proposal is not a commercial offer within the meaning of the law but is for information purposes. Partners International Sp. z o.o. makes every effort to ensure that the content presented in our offers is current and reliable. Data on offers was obtained on the basis of statements of the sellers.