Gdynia, Orłowo, Miernicza
APARTAMENT WAKACYJNY BLISKO LASU,PLAŻY I MORZA
HOLIDAY APARTMENT NEAR THE BEACH, SEA AND FOREST
*****
Prestigious location | 10 min. to the beach and Orłowo pier | Terrace and garden | Perfect second home | Relaxation area with sauna and gym for residents | Parking space in the garage and storage box
LOCATION
The unique Orłowski Jantar development, designed by KD Kozikowski Design Office, was built just 1.5 km from the sea, beach and pier in Gdynia Orłowo. A dozen or so minutes is enough to walk to the sea, enjoy the beach, have a swim, take a walk. On one side there is Tri-City Landscape Park, and on the other side there is Kępa Redłowska Reserve, Cliffs of Orłowo. Nearby in the park in Kolibki summer concerts are held. On the beach there is a theater – Summer Stage of Witold Gombrowicz Municipal Theatre and a summer cinema. In Orłowo you will find everything to satisfy daily needs – from fresh bread for breakfast to luxury goods. You can do your weekend shopping at Orlowo Market on Plac Górnoslaski, at the market in JadloStajnia Kolibki or CH Klif.
The location is excellent and the best possible. Peace, quiet, privacy of the place, and at the same time proximity to the city and the full infrastructure necessary for a comfortable life.
A perfect offer for those looking for an elegant apartment in an extraordinary location near the sea.
INFORMATION ABOUT REAL ESTATE
Apartment building from 2009 with a glass staircase with a panoramic elevator. The building is surrounded by a garden designed by a green architect. The residents have at their disposal a recreation area – gym with saunas: dry and steam. Additional parking spaces for guests are located on the premises.
STANDARD
The apartment has an area of 110 m2. Interior designed by interior designer.
The layout of the rooms:
Daily part: entrance hall, living room with open kitchen and dining room with access to a large terrace and garden. Toilet.
Private part: bedroom with walk-in closet and bathroom. In addition, the bedroom was separated space to work – an office. The bedroom opens onto a second terrace.
There is a possibility to divide the area of the apartment into 3 rooms- proposals in the offer.
The apartment includes a place in the garage and storage room.
I invite you to the presentation.
Additional data
Terrace: 1
Storage: 1
Underground parking: 1
Garden: 1
Gated: Yes
Monitoring: Yes
Elevator: Yes
Location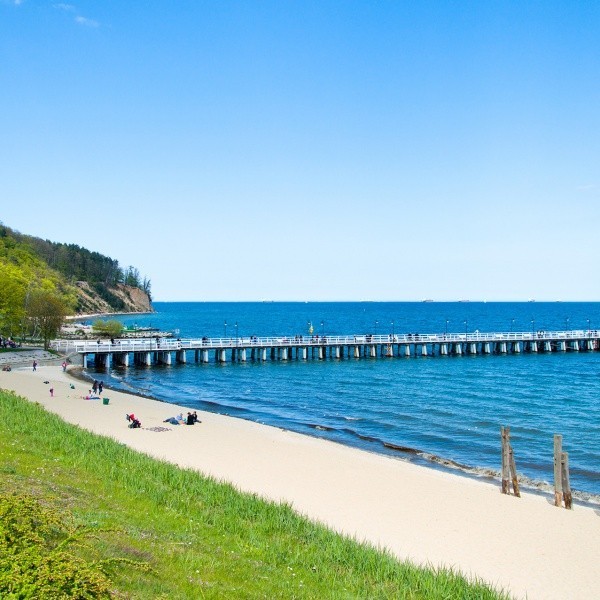 Gdynia
Orłowo
Orłowo to dzielnica Gdyni, położona w południowej części miasta - na granicy Gdyni i Sopotu. Zamieszkiwana przez ponad 7 tysięcy mieszkańców jest zadbaną i bezpieczną miejscowością, o atrakcyjnym położeniu nad samym morzem. Zabudowę dzielnicy stanowią przede wszystkim kameralne, niskie, przedwojenne, jak i powojenne - budynki willowe.
Offer no: 639648
The above proposal is not a commercial offer within the meaning of the law but is for information purposes. Partners International Sp. z o.o. makes every effort to ensure that the content presented in our offers is current and reliable. Data on offers was obtained on the basis of statements of the sellers.