Gdynia, Orłowo, Orłowska
Holiday or investment apartment | Perfect for the office | 10 minutes from the beach | Ready to go
LOCATION:
Orłowo – a cozy district of Gdynia, located in the southern part of the city – on the border of Gdynia and Sopot. Perfectly connected with the entire Tri-City. You can walk to the beach, there are plenty of green and recreational areas in the area. Full infrastructure, shopping centers, restaurants, schools nearby.
Examples of distances:
Klif Shopping Center: 5 minutes
Beach and pier in Orłowo: 9 minutes
Kolibki Park: 10 minutes
PROPERTY INFORMATION:
The apartment is located on the second floor of a modernist, pre-war tenement house. The building has been restored, with a nice facade and a well-kept staircase.
The premises with an area of ​​70 m2 consists of a living room, a bedroom, a separate, bright kitchen and a bathroom. The layout of the living room allows you to distinguish a third, independent room.
Above-standard, almost three-meter height and large windows provide good light to the room. Living room on the south side.
STANDARD / FINISH:
The flat in an eclectic style does not require any investment and is ready to move into. The hundred-year-old, light oak on the floors contrasts with the modern buildings with glossy fronts. Classic, subdued colors harmonize with the bold colors of moving furniture and accessories. Everything is coherently complemented by golden accessories in the form of lighting or mirrors. Large separate kitchen in bright colors. Wide, stone worktops lit by large windows.
An atmospheric apartment designed to combine various trends perfectly correlates with the modernist architecture of the entire tenement house.
Additional information:
9m2 basement
Monthly fees only PLN 280!
Location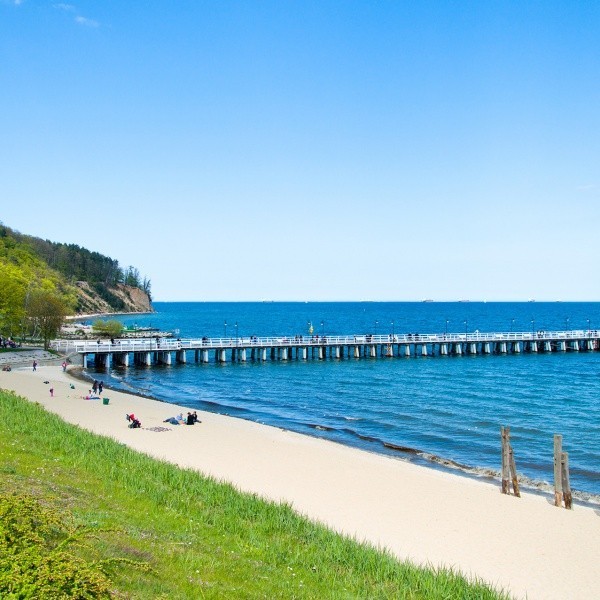 Gdynia
Orłowo
Orłowo to dzielnica Gdyni, położona w południowej części miasta - na granicy Gdyni i Sopotu. Zamieszkiwana przez ponad 7 tysięcy mieszkańców jest zadbaną i bezpieczną miejscowością, o atrakcyjnym położeniu nad samym morzem. Zabudowę dzielnicy stanowią przede wszystkim kameralne, niskie, przedwojenne, jak i powojenne - budynki willowe.
Offer no: 234053
The above proposal is not a commercial offer within the meaning of the law but is for information purposes. Partners International Sp. z o.o. makes every effort to ensure that the content presented in our offers is current and reliable. Data on offers was obtained on the basis of statements of the sellers.