pomorskie, Sopot, Sopot Dolny
Unique apartment 150 m from the beach
APARTMENT | 4 ROOMS | 3 BEDROOMS | SAUNA | AUDIO EQUIPMENT DENON | 130 M2
For sale unique apartment with sauna – 150 meters from the beach.
LOCATION:
Bottom Sopot is primarily beaches with all its infrastructure – aesthetically pleasing catering pavilions, beach bars, children's playgrounds integrated into the landscape, windsurfing school and sauna dedicated mainly to lovers of winter swimming in the sea. A modern marina awaits yacht owners at the pier, which has only one drawback – it cannot be reached by car.
For years, Lower Sopot has been associated with great tennis, so it is not surprising that there is a large availability of outdoor and indoor ground courts. Tennis schools for all ages are run and tournaments are organized.
Swimming enthusiasts can enjoy the indoor swimming pool of the Sopot Municipal Sports and Recreation Center, with a soccer field right next door. The distance between the pier and the Sopot Hippodrome (located in the neighboring Karlikowo district) is only 2.7 km.
Lower Sopot is a real wealth of places for walking. In addition to the pier with a length of 511.5 m , the main attraction is the seaside promenade,along which there is also a bicycle path.
Residents relax in the alleys of the Park named after Lech and Maria Kaczynski or the North Park, where walking paths have been built, but also educational and traffic-free paths for cyclists and inline skaters.
NIERVERSITY:
In the apartment you will find:
– Living room with dining room and kitchen
– Master bedroom (1)
– Dressing room (1)
– Bathroom with bathtub, Shower and sauna
– Hall
– Bathroom with shower
– Laundry
– Dressing Room (2)
– Bedroom (2)
– Bedroom (3)

Unique four-bedroom apartment of 130 m2 designed by well-known designer Caroline Rocham. Property for the connoisseur who seeks modernity. An intimate building. Timeless fully functional architectural design is sure to satisfy demanding customers. Coherent, timeless design, original interior. It will be appreciated by anyone who appreciates modernity and uniqueness. The height of the rooms 3 m.
Modern architectural trends, i.e. a combination of stone with wooden accents and glazing (luxaffers). In the tasteful kitchen you will find high-quality household appliances (STOVES) , in the bathroom good ceramics and fixtures. In the bedrooms all the furniture has been tastefully selected to better optimize the space. Wooden flooring blends perfectly with good quality furniture. The whole architecturally consistent, selected lighting and accessories emphasize the quality of this property.
.
Additional data
Furnishings: Yes
Garden: 1
Intercom: Yes
Gated: Yes
Alarm: Yes
Elevator: Yes
Condition: perfect
Location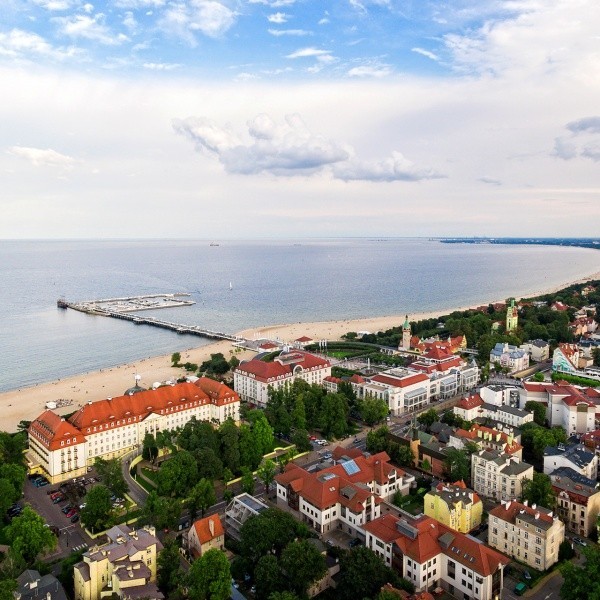 Sopot
Sopot Dolny
Główna dzielnica Sopotu, w jej obrębie znajduje się najdłuższe molo w Europie o drewnianej konstrukcji. W pasie nadmorskim dzielnicy znajdują się hotele, domy wypoczynkowe i  pensjonaty. Osią dzielnicy jest deptak ul. Bohaterów Monte Cassino, którego przedłużenie stanowi najbardziej znany obiekt - wychodzące na wody Zatoki Gdańskiej drewniane molo.
Offer no: 771635
The above proposal is not a commercial offer within the meaning of the law but is for information purposes. Partners International Sp. z o.o. makes every effort to ensure that the content presented in our offers is current and reliable. Data on offers was obtained on the basis of statements of the sellers.