Mokotów, Sadyba, Stara Sadyba
Apartment with south-facing terrace and garden
A beautiful apartment with a southern terrace and a garden, located in the quiet of old Sadyba.
LOCATION:
Great location on the map of Warsaw. Prestigious neighborhood, low-rise buildings – this is a perfect place to live. Sadyba combines intimacy with the proximity of the city center, it is well connected both for those using cars and those traveling by buses. In addition, the place is full of walking places – an ideal place for people with an active lifestyle. Close to international schools and kindergartens.
ROOM LAYOUT:
The apartment is located in a two-unit, semi-detached house.
Schedule:
– ground floor level – living room with dining room, open kitchen and exit, bedroom, bathroom with shower
– basement – transition room (TV / library), bedroom, bathroom with bathtub, huge wardrobe, but most of all a huge southern intimate terrace and garden.
We cordially invite you to the presentations.
Additional data
Bright kitchen: Yes
Furnishings: No
Terrace: 1
Basement: 1
Parking: 1
Garden: 1
Condition: perfect
Location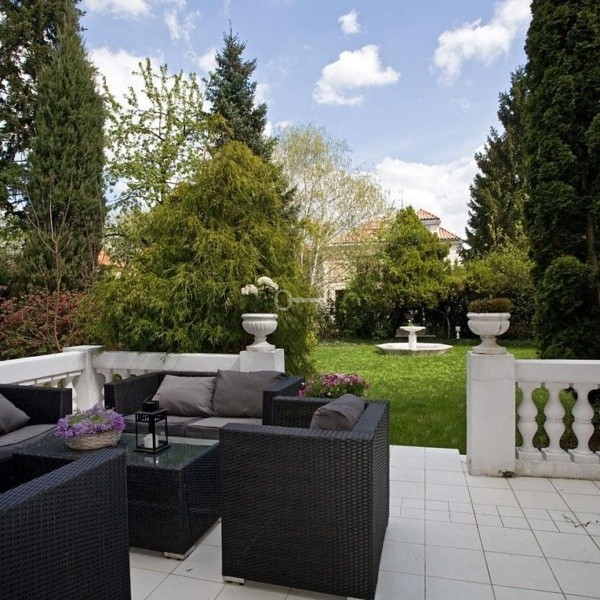 Mokotów
Sadyba
Sadyba to osiedle zlokalizowane w południowej części Mokotowa. Jedną z granic jest naturalny zbiornik wodny Jeziorko Czerniakowskie, które wraz z zielenią dookoła stanowi Rezerwat Przyrody. To niezwykłe miejsce na spacery, urządzanie pikników, a nawet kąpiele w jeziorze. Nazwa osiedla "Sadyba" wywodzi się z założonej w 1923 r. Oficerskiej Spółdzielni Budowlano-Mieszkaniowej "Sadyba", która budowała domy dla wysoko postawionych oficerów. Kameralna uliczki znane są ze szlaków latarni gazowych i pięknych willi budowanych z rozmachem.
Offer no: 496058
The above proposal is not a commercial offer within the meaning of the law but is for information purposes. Partners International Sp. z o.o. makes every effort to ensure that the content presented in our offers is current and reliable. Data on offers was obtained on the basis of statements of the sellers.