Stare Miasto, Śródmieście, Stara Stocznia
Apartment in modern Brabank development
APARTMENT IN THE HEART OF THE OLD TOWN OF GDAŃSK I IDEAL AS A SECOND HOME OR FOR FURTHER RENT

MAIN ADVANTAGES:

– Prestigiouse place: the investment is an example of modern architecture, combining architectural artistry with history.
It has been appreciated and awarded many times in Polish
and international competitions.
– Great location
– Elegant reception
– Welness zone with saunas (finnish and steam)
– Well-equipped fitness room
– Club room with a bar and a billard
– Access to full infrastructure (cultural offer, shops, transport, restaurant, cafes)
LOCATION:

The apartment is located in the modern BraBank investment, completed by a valued and known for the highest quality developer: Invest Komfort. The property is characterized
by a unique location, which gives the proximity of the most important attractions and charms of the Old Town of Gdańsk,
yet discreetly away enough to enjoy the peace and quiet.
MORE INFORMATION:

The apartment is located in the area of Wałowa Street and Stara Stocznia in Gdańsk. Centuries ago, there was a repair shipyard here specializing in repairing ship hulls.
A few minutes walk separates it from the historic buildings
of the city center and the emerging World War II Museum.
A footbridge provides easy access to the vibrant Wyspa Spichrzów (Granary Island), rich in countless restaurants, cafes and clubs. Living in such a location provides you with the possibility
of leading an active lifestyle in the city center and direct access
to catering establishments, entertainment facilities and cultural institutions located in the city center, such as Shakespeare Theatre, Polish Baltic Philharmonic, Maritime Museum.
In the neighbourhood there are schools, kindergartens, clinics, restaurants, stores and shopping malls.
Brabank Estate – is prestige and beauty, contemporary architecture, an elegant color palette of finishes and unique views. The investment perfectly combines respect for history with architectural craftsmanship. Appreciated and awarded in Polish and international competitions: "Best Residential Development Poland" in the "International Property Awards" competition,
The building has been finished to a very high standard
with 24-hour security and a reception desk. The building
has an elegant hallway, a club room with a library
and a welness zone. The residents have a luxury SPA with saunas, a gym and a pool table at their disposal.
On the first floor there are numerous commercial premises as well as a green area with a water mirror which is a place for meetings and daily walks.
I invite you to the presentation!

Additional data
Bright kitchen: Yes
Furnishings: Yes
Balcony: 1
Storage: 1
Underground parking: 1
Intercom: Yes
Reception: Yes
Monitoring: Yes
Elevator: Yes
Adapted: Yes
Condition: very good
Water: Yes
Current: Yes
Bank nearby: Yes
Pharmacy nearby: Yes
Nursery nearby: Yes
Kindergarten nearby: Yes
Primary school nearby: Yes
Grocery nearby: Yes
Location
Stare Miasto
Śródmieście
Śródmieście to dzielnica, której część stanowi najbardziej reprezentacyjny fragment Gdańska. Spośród innych dzielnic Śródmieście wyróżnia się bogactwem obiektów o randze dziedzictwa kulturowego, a duże znaczenie dla rozwoju dzisiejszego Śródmieścia miało na przestrzeni wieków nadwodne położenie. Martwa Wisła, Stara Motława, Nowa Motława, tzw. Opływ Motławy, Kanał Raduni i Kanał Na Stępce przez stulecia przyciągały zakłady rzemieślnicze i przemysłowe, a woda pracowała dla Gdańska oraz stanowiła system obronny. Dzisiaj oznaką zmieniającego się sposobu wykorzystania wód są powstające w Śródmieściu mariny, przystanie oraz przystanki tramwaju wodnego. Ku radości mieszkańców i turystów, woda zyskuje charakter rekreacyjny. Śródmieście, o powierzchni 5,65 km kwadratowego, tworzy jedenaście historycznych jednostek, a każda z nich ma nieco inny koloryt.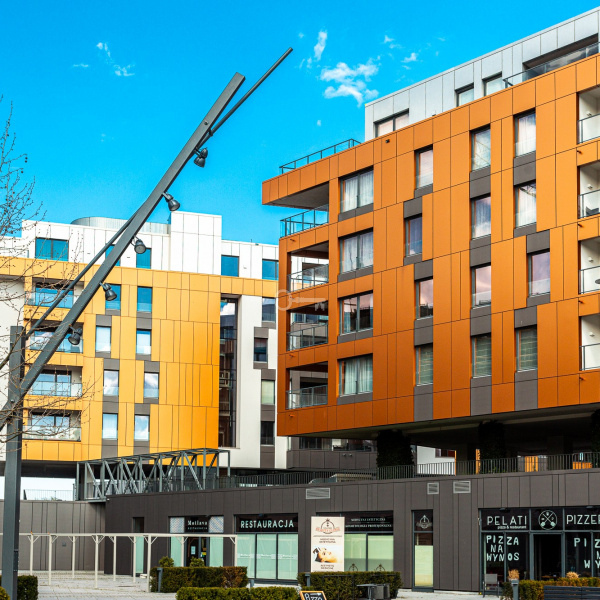 Investment
Brabank
BraBank – an investment realized by a respected developer – Invest Komfort. The design of the investment was selected through an architectural competition, which was won by the acclaimed Kwadrat studio (also by its design is the neighboring Museum of World War II). . The development of this original residential…
Offer no: 130183
The above proposal is not a commercial offer within the meaning of the law but is for information purposes. Partners International Sp. z o.o. makes every effort to ensure that the content presented in our offers is current and reliable. Data on offers was obtained on the basis of statements of the sellers.