Mokotów, Sadyba, Jodłowa
Family house in Sadyba | 7 rooms| Garden
FAMILY HOUSE IN THE MOST BEAUTIFUL PART OF SADYBA
Practical layout | Bright interiors | Green and safe neighborhood | By the British and French school | Garden and garage.
*****
LAYOUT AND STANDARD:
This spacious house has a practical layout, perfect for a family consists of:
* Living room with fireplace,
* Kitchen which is a separate room,
* 4 bedrooms,
* 3 bathrooms,
* Garage.
The house is freshly renovated, with classic oak parquet, white walls, and bathrooms and kitchens decorated in a universal style. The well-kept garden is an additional asset of this property.
LOCATION:
The house is located in Old Sadyba, on the trail of gas lanterns, not far from Starszych Panów Square. An intimate neighborhood with nearly a century of history, which was designed in the spirit of a place comfortable to live – away from the heart of the city with a significant share of green space and low-rise buildings.
Sadyba is full of atmospheric historic houses, ambassadors' residences and headquarters of intimate companies. Good communication with the city center (15 minutes by car, fast bus connections), friendly atmosphere, security and direct proximity to the most renowned international schools The British School Warsaw and Lycee Francais de Varsovie, make it an ideal place to live.
For those who prefer an active lifestyle, the exclusive Sinnet Club tennis club and Kahuna squash & badminton club are in close proximity.
ADDITIONAL INFORMATION:
Water and heating bills of about PLN 1,000 per month, as well as electricity and Internet bills should be added to the rent.
One-month security deposit required.
Available immediately.
You are cordially invited to the presentation!
Additional data
Bright kitchen: Yes
Furnishings: No
Basement: 1
Attic: 1
Garage: 1
Garden: 1
Condition: very good
Park: Yes
Bus: Yes
Playground nearby: Yes
Primary school nearby: Yes
Grocery nearby: Yes
Location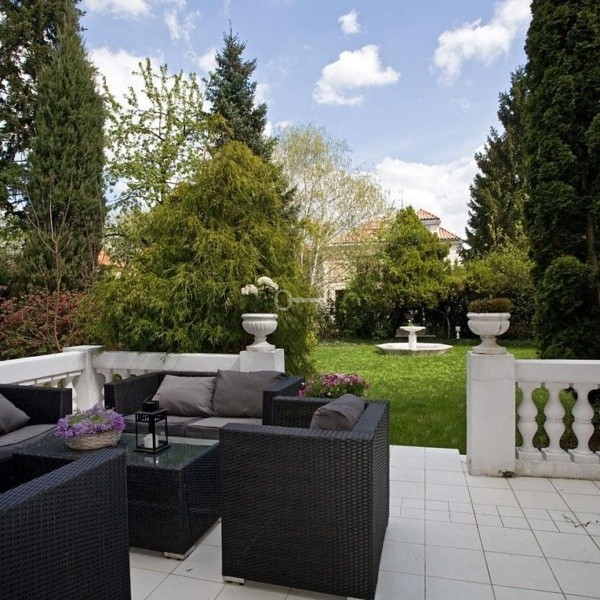 Mokotów
Sadyba
Sadyba to osiedle zlokalizowane w południowej części Mokotowa. Jedną z granic jest naturalny zbiornik wodny Jeziorko Czerniakowskie, które wraz z zielenią dookoła stanowi Rezerwat Przyrody. To niezwykłe miejsce na spacery, urządzanie pikników, a nawet kąpiele w jeziorze. Nazwa osiedla "Sadyba" wywodzi się z założonej w 1923 r. Oficerskiej Spółdzielni Budowlano-Mieszkaniowej "Sadyba", która budowała domy dla wysoko postawionych oficerów. Kameralna uliczki znane są ze szlaków latarni gazowych i pięknych willi budowanych z rozmachem.
Offer no: 257463
The above proposal is not a commercial offer within the meaning of the law but is for information purposes. Partners International Sp. z o.o. makes every effort to ensure that the content presented in our offers is current and reliable. Data on offers was obtained on the basis of statements of the sellers.