Warszawa, Mokotów, Sadyba
WYMARZONA LOKALIZACJA PRZY PARKU, PRZEPIĘKNA WILLA
DREAM LOCATION AT THE PARK, BEAUTIFUL PRE-WAR VILLA WITH CLIMATE, MARVELOUS GARDEN
Beautiful part of Sadyba | Quiet neighborhood | Garage | 2 floors | 8 rooms
*****
LAYOUT

Ground floor
* Vestibule,
* Lobby,
* Office,
* Large living room divided into 2 parts: TV and fireplace part,
* Kitchen with a large dining room,
* Guest toilet with shower
1st floor
* Bedroom,
* Dressing room,
* WC
* Impressive bathroom with shower and jacuzzi,
* Terrace and park view,
* 2 children's bedrooms with bathroom.
Attic
* Open space with access to a huge terrace with a beautiful view of the park and garden.
Basement
* Laundry,
* Wine room,
* Recreation room,
* Dressing room,
* Room for sports equipment.
STANDARD

The historic neighborhood, houses in this area are from the period before the war and maintained in such a climate. The house was bought by its current owner in the early 90s, it has been completely renovated. Since then, the house was renovated a few times to maintain the good condition of the property. Prepared for "the owner", according to the nature of the area and the property itself, which is associated with the quality of the materials used (in the kitchen real wood).
LOCATION
The house is located at Morszyńska street opposite the park, within walking distance to the shopping center Sadyba Best Mall, 5 minutes to French and British schools, 10 minutes to the German school.
ADDITIONAL INFORMATION

Garage for one car, additional parking space on the property behind the gate. all gates and garage doors open automatically.
I cordially invite you to the presentation!
Additional data
Bright kitchen: Yes
Balcony: 1
Terrace: 1
Basement: 1
Attic: 1
Parking: 1
Garage: 1
Garden: 1
Condition: very good
Location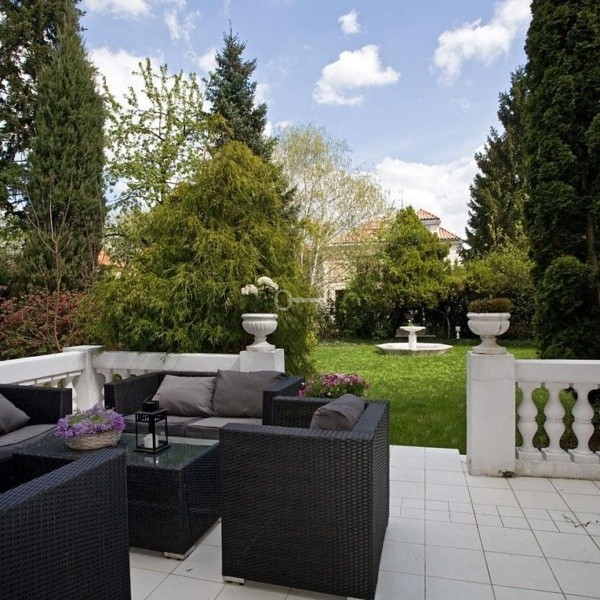 Mokotów
Sadyba
Sadyba to osiedle zlokalizowane w południowej części Mokotowa. Jedną z granic jest naturalny zbiornik wodny Jeziorko Czerniakowskie, które wraz z zielenią dookoła stanowi Rezerwat Przyrody. To niezwykłe miejsce na spacery, urządzanie pikników, a nawet kąpiele w jeziorze. Nazwa osiedla "Sadyba" wywodzi się z założonej w 1923 r. Oficerskiej Spółdzielni Budowlano-Mieszkaniowej "Sadyba", która budowała domy dla wysoko postawionych oficerów. Kameralna uliczki znane są ze szlaków latarni gazowych i pięknych willi budowanych z rozmachem.
Offer no: 253236
The above proposal is not a commercial offer within the meaning of the law but is for information purposes. Partners International Sp. z o.o. makes every effort to ensure that the content presented in our offers is current and reliable. Data on offers was obtained on the basis of statements of the sellers.