Konstancin-Jeziorna, Strefa A, Stefana Batorego
HOUSE IN A SECLUDED AREA, AMONG GREENERY | OVER 3000 M2
An amazing location, forest plot, located on a slight hill with an area. 3339m², on which grow old trees: pines, oaks, maples, hornbeams and acacias.
Quiet and peaceful street and unique Konstancin – these are just some of the advantages of this house.
HUGE MODERN VILLA AMONG OLD TRIEES
 
This unique house has been designed and made in a modern style, although thanks to the facade made of unique, hand-made Belgian bricks, you can feel the atmosphere of the Mediterranean mansions.
A residence that gives an amazing sense of spaciousness and breath. Interior with an area total 900 m2, it is distinguished by a well-planned space with a division into a representative, sleeping and recreational function, allowing the residents to feel really comfortable.
LAYOUT OF ROOMS:
The villa consists of:
kitchen (66m²) with fireplace,
living room / living room (105m²) from
fireplace,
office (21m²),
garage with 3 entries for 4 cars,
6 bedrooms (4 of them have internal bathrooms and wardrobes), with the possibility of separating the next two in the attic
7 bathrooms
and in addition:
Laundry room is also as a full bathroom, 6 dressing rooms, sauna, gym, space
recreation room, boiler room, utility room, 2 additional rooms, terrace connecting the space between the kitchen and the living room, 4 fireplaces,
the ability to park 5-6 cars on the plot, a brick and roofed gazebo in the garden
TECHNICAL DESCRIPTION:
1. Masonry walls made of ceramic brick type max + double insulation 22cm from
styrofoam and cladding bricks, clinker.
2. Energy-saving insulated building: roof-30 cm Gulfiber mineral wool,
floor-18 cm styrofoam.
3. Roof covered with French roof tiles from Hugenot- Imerys. Flashings, gutters, tape under the ridgeware made of copper. Rafters covered with roofing foil from Klöber-Germany (Dupont technology).
4. Roof windows with excellent thermal protection with microventilation, finished with Velux- Denmark copper.
5. Wooden, mahogany, energy-saving windows with Okland thermal frame and argon. Tilting hardware with micro-ventilation and brake from G-U.
6. Boiler room made of copper. Gas, condensing furnace and water heater from Viessman-Germany. Grundfos pumps – Germany. Stainless steel chimney.
7. Underfloor heating throughout the house (excluding the bedroom).
8. Garage doors with excellent thermo-insulation from Krispol- Poland / Germany. Drives of garage doors and entry gates of Beninca- Italy controlled by a remote control.
Commax stainless steel video entry phone.
9. On the plot a beautiful carpet lawn, automatically irrigated with the installation
controlled computer by Irritrol-USA.
10. All municipal media: gas, water, sewage, electricity, fiber (100Mbit).
11. High-capacity deep-water studio equipped with Grundfos-Germany pump and Debe-Sweden head for garden irrigation.
12. Alarm system with monitoring and protection of the Solid Security company.
13. Modern electrical connection with equipment from Moeller- Germany.
14. Automatic temperature control of the Viessman interior.
15. A large number of points of light, a large number of electrical outlets, RTV-Sat,
computer. Optical fiber routers, modern satellite dishes and digital television in every bedroom and even in the garage.
16. A fence that provides intimacy and security.
17. Bathrooms: Villeroy-Boch, Grohe and others.
18. Walnut cuisine, home appliances Bosch, Siemens, Franke.
19. Floors: Porcelanosa porcelain stoneware, lapacho wood parquet.
20. Dewro's door made of American walnut, oak and maple wood.
This house is a proposal for people who value modesty of form and high quality of materials. It is a private investment carried out with a passion for building. The investor did not use any savings in the workmanship and materials.
The house is fully finished and ready to live.
There is nothing left but to personally find out that this is a unique villa in a quiet residential location.
Additional data
Bright kitchen: Yes
Furnishings: Częściowo
Terrace: 1
Attic: 1
Parking: 3
Garage: 4
Garden: 1
Intercom: Yes
Video intercom: Yes
Secure door: Yes
Blinds: Yes
Video cameras: Yes
Monitoring: Yes
Alarm: Yes
Roof material: ceramic tile
Condition: perfect
Phone: Yes
Internet: Yes
Television: Yes
Gas: Yes
Water: Yes
Current: Yes
Sewerage: Yes
Forest: Yes
Park: Yes
Bank nearby: Yes
Pharmacy nearby: Yes
Grocery nearby: Yes
Fencing: mixed
Location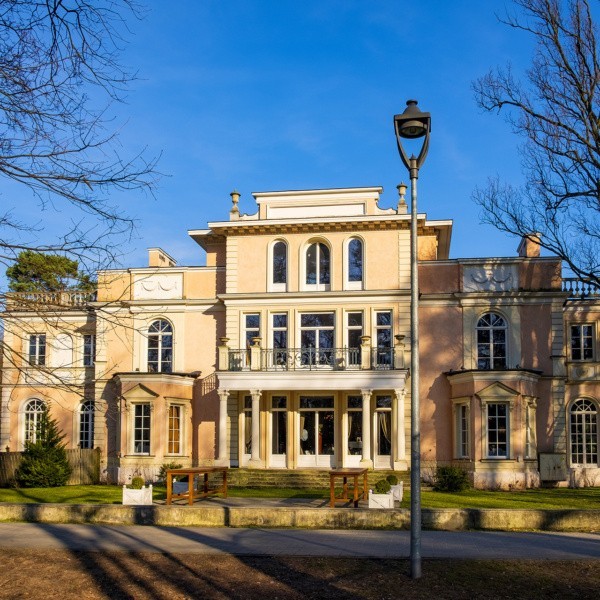 Konstancin-Jeziorna
Strefa A
Konstancin Jeziorna to urocza miejscowość położona niedaleko, około 20 km, od centrum Warszawy. Pomimo bliskości dużego miasta, Konstancin zachował swój uzdrowiskowy charakter. Niewiele ponad sto lat temu były to lasy należące do majątku ziemskiego rodziny hrabiów Potulickich, dziś również Konstancin wzbudza zainteresowanie zamożnych person uciekających z warszawskiej aglomeracji. Strefa A w Konstancie to wypoczynkowe miasto-ogród na skarpie pradoliny Wisły, wzdłuż rzeki Jeziorki – cicha i zielona alternatywa, dla tych, którzy chcą zostawić miasto w tyle,
Offer no: 266488
The above proposal is not a commercial offer within the meaning of the law but is for information purposes. Partners International Sp. z o.o. makes every effort to ensure that the content presented in our offers is current and reliable. Data on offers was obtained on the basis of statements of the sellers.