Wilanów, Stary / Nowy Wilanów, Prymasa Augusta Hlonda
Hampton Residence Wilanów
LUXURY ESTATE OF RESIDENCES IN WILANÓW – HAMPTON RESIDENCE
Hampton Residence Wilanów complex offers a range of high-end apartments, from spacious one-bedroom units to spacious three-bedroom penthouses. Each apartment is finished to the highest standard, with top-quality appliances and furnishings. The development also offers a range of amenities, including a fitness center, swimming pool and 24-hour concierge service.
An investment in the Hampton Residence complex offers a number of potential benefits. The development is located in a fast-growing part of the city, with a booming economy and strong demand for high-end residential properties. This makes it an attractive option for those looking for a real estate investment in Warsaw.
In addition, the complex is managed by a professional team that ensures that the estate maintains its high standards and that residents have the best possible experience. This means that investors can rest assured that their property will be well maintained and that they will receive a good return on their investment.
Overall, the Hampton Residence complex offers a unique opportunity to invest in a luxury property in the heart of one of Europe's most vibrant and exciting cities. With top-quality apartments and an array of amenities, it is an ideal choice for those looking to enjoy what Warsaw has to offer.
Wilanów Township / TOP location / high standard estate / luxury villas / large plots / modern design / modernist block / proximity to top international schools / natural stone on villa facade.
LOCATION:
Hampton Residence is a luxury apartment complex located in the heart of Warsaw. The development is located in the affluent Downtown district, within walking distance of the city's major attractions, including the historic Old Town, the Royal Castle and the vibrant Krakowskie Przedmieście. The location of the Hampton Residence complex is one of its key advantages. The development is just a few minutes' walk from the city's main shopping and dining districts, as well as its main cultural attractions. This makes it an ideal location for those looking to enjoy what Warsaw has to offer.
Hampton Residence Wilanów is all about location – the gated development in the well-known and well-liked Miasteczko Wilanów is an oasis of calm for future residents in very close proximity to the Royal Palace in Wilanów. International schools, such as British Primary School and Academy High School, are located in the neighborhood. This is a dream location for those who love being close to nature – Wilanow beach, the Botanical Garden in Powsin or the graduation tower in Konstancin are within a few kilometers.
The location of the project guarantees access to everything you need every day. In the immediate vicinity there are grocery stores, cafes, restaurants, boutiques, schools, kindergartens, fitness clubs.
PROJECT:
The offer for sale of residences includes large, modern projects, sized from about 250 to 360 m2, located on plots of 550 to 1200 m2.
The project envisages beautiful, modernistic, modern blocks enriched with large glazing, which will allow to introduce a huge amount of daylight into the interiors. The color scheme of the buildings will be kept in classic, elegant colors – white, gray and beige.
The entire Hampton Residence Wilanów estate is an oasis of privacy and tranquility for the new residents – the developer plans to fence off the entire area, and a gatehouse with access control will be built at the entrance.
We invite you for more information.
Location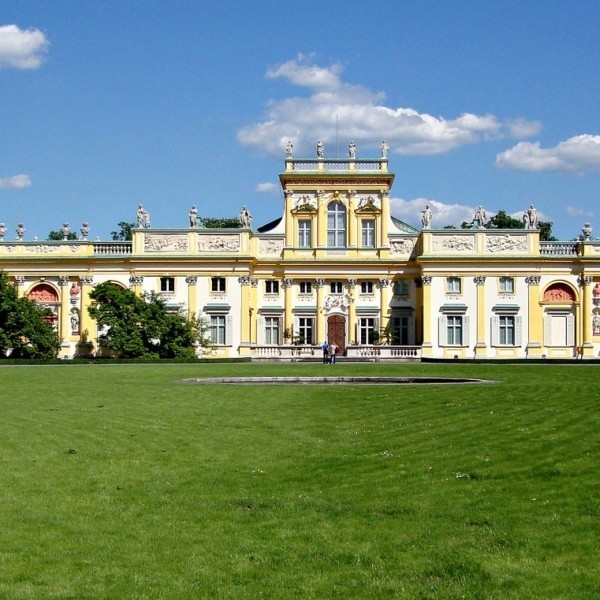 Wilanów
Stary / Nowy Wilanów
Wilanów był najstarszą osadą założoną na dawnych terenach Warszawy. Wcześniej nazywany Milanowem, ostatecznie dzięki pałacowi Villa Nova powstałemu w XVII wieku ochrzczony Wilanowem. Okolica to piękne, malownicze tereny dawnych sadów w Wilanowie. Obecnie to jedna z najczęściej poszukiwanych lokalizacji przez ekspatów oraz rodziny z dziećmi. Przede wszystkim z tego względu, że Wilanów oferuje doskonałą infrastrukturę edukacyjną. To tu znajdują się szkoły niemiecka, kanadyjska, francuska, a szkoły brytyjska i amerykańska położone są w niedalekiej odległości.
Offer no: 4363
The above proposal is not a commercial offer within the meaning of the law but is for information purposes. Partners International Sp. z o.o. makes every effort to ensure that the content presented in our offers is current and reliable. Data on offers was obtained on the basis of statements of the sellers.