Gdynia, Śródmieście, św. Piotra
Piotra 4
The most fashionable residential complex in the center of Gdynia.
In an exceptional location, not far from the waterfront of the Gdynia harbor, a modern residential and commercial building will be built, whose modernist architecture will perfectly fit into the characteristics of this district of the city.
Downtown Gdynia guarantees all the amenities of a modern city, full infrastructure, all kinds of public transportation, as well as cultural centers and sports facilities. At the same time, Gdynia is a city by the sea with a number of tourist and leisure attractions.
Here you live, live, work and relax.
The offer includes a full spectrum of residential units from 1 to 5 rooms in sizes between 32 and 170 m 2 !
On the lowest level, commercial premises will also be available.
This is an offer for every downtown enthusiast, from those looking for an apartment for themselves, to investors and those wishing to purchase a holiday apartment.
The proposal of available units should satisfy all buyers' requirements. Large apartments overlooking the bay will be built on the top floors.
The modern development has to offer all amenities for residents : silent elevators, underground garage hall, large patio at the owners' disposal, possibility of installing air conditioning and a number of ecological solutions.
Location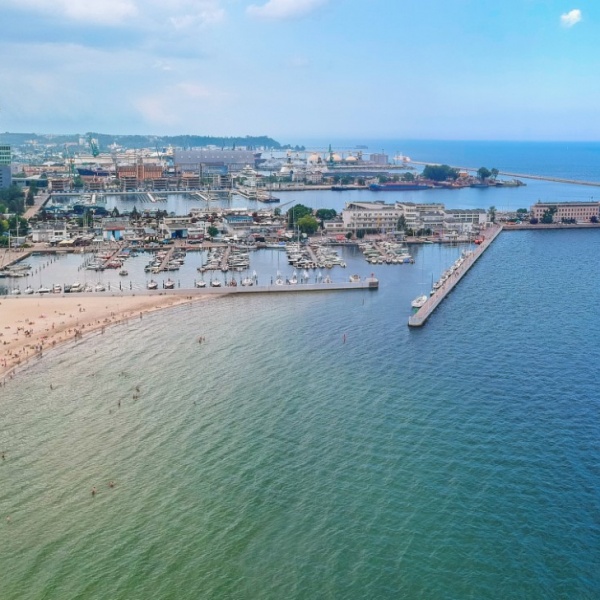 Gdynia
Śródmieście
Gdynia Śródmieście to centralna dzielnica miasta. Początkowo teren był wsią rolniczo-rybacką, żeby na początku XX wieku nabrać charakteru wioski letniskowej. Prawdziwy rozwój nastąpił po roku 1920, kiedy w ramach ustaleń traktatu wersalskiego Polsce przyznano dostęp do wybrzeża morskiego, a następnie została podjęta decyzja o rozpoczęciu budowy portu. Ogromna inwestycja była dziełem inż. Tadeusza Wendy, który port zaprojektował i zbudował oraz Eugeniusza Kwiatkowskiego – ówczesnego ministra przemysłu i handlu.
Offer no: 30594
The above proposal is not a commercial offer within the meaning of the law but is for information purposes. Partners International Sp. z o.o. makes every effort to ensure that the content presented in our offers is current and reliable. Data on offers was obtained on the basis of statements of the sellers.