Żoliborz, Stary Żoliborz, Bitwy pod Rokitną
| LUXURY | HIGH STANDARD | GREEN ŻOLIBORZ |
COMBINING WORLD DESIGN WITH EXTREMELY WELL CONCEIVED AND COMFORTABLE SPACE
An apartment in the green Żoliborz, in the best building in this part of Warsaw.
| LUXURY INTERIOR | GREEN ŻOLIBORZ |
The apartment is located in a luxurious, intimate, 9-story apartment building in Warsaw's Żoliborz, perfectly integrated into the surrounding space. "Multico Residance" is a building that has become a permanent fixture on the map of luxury real estate in Warsaw and, despite the passage of time, is still a synonym of prestige and the most famous location of Żoliborz. The atmosphere of elegance, silence and discretion.
APARTMENT
The luxurious 348 m² apartment is located on the first floor of the building, and each of the three surrounding terraces maintains a comfortable and intimate height of the tree crowns. Designed by an architect, fully furnished and equipped, it combines the highest standard of finish with well-thought-out functionality. The apartment is quiet and very spacious. The height of the rooms of 3 meters creates an optimal background for a sophisticated design. The light introduced into the interior through the numerous windows, from the floor to the ceiling.
LAYOUT 

a spacious hall with an impressive velor mirror
guest toilet finished in Carrara black marble
wardrobe for outerwear
spacious living room with a terrace, divided into a relaxation area with sofas and a dining room with a table for 12 people
master bedroom with a spectacular dressing room finished with bright velor and rivets, in the atmosphere of old travel trunks and a huge bath room with a large, round, illuminated bathtub, shower, toilet and bidet
separate kitchen with a breakfast table and access to the terrace
pantry
office with an independent bathroom and a terrace
leading hall, separating the extra rooms from the rest apartment, with fitted wardrobes
3 bedrooms, each with its own bathroom
laundry room with two washing machines, two dryers and a sink
INTERIOR STANDARD AND EQUIPMENT
All interior components have been carefully selected so that, apart from the value of timeless elegance, they are characterized by high durability and acquire a noble patina with age. The bathrooms are finished with white or black marble, the kitchen worktops are made of lava granite, teak wood floors, window and door frames are made of exotic rosewood. The manual finishing of the surface of the floors, countertops and fixed buildings give the highest standard to this unique apartment.
ABOUT THE BUILDING
"Multico Residance" is an atmosphere of elegance, silence and discretion surrounded by exceptional art and style. The apartment building after a general renovation in 2018, from the main hall, extremely representative, delights leading to the reception point and 24-hour security of the building. The intimacy is evidenced by the fact that there are only 40 apartments, each with alarm and fire protection systems and an intercom connection with the reception.
The building offers residents a 24-hour reception, 24-hour security, the spectacular 1200 m² Club Wellnes, with a swimming pool, gym, fitness room and wellness area.
LOCATION
Żoliborz is a prestigious, green district of Warsaw. In the immediate vicinity there are charming little streets with their unique atmosphere and pre-war villas, numerous squares and playgrounds for children. The green, Old Żoliborz, designed and built mostly in the 1920s, only slightly damaged during the war, is today a symbol of old European modernism. Today's Żoliborz is primarily socially and culturally active people. This smallest district, formerly beloved by artistic bohemians, today is inhabited by people from the world of culture, business, sports and media. Such a wonderful neighborhood creates a family atmosphere. The proximity of the city center does not prevent Żoliborz from being a quiet and pleasant neighborhood.
ADDITIONAL INFORMATION
The apartment includes 2 storage rooms and 2 parking spaces. The apartment building is equipped with its own boiler room and water filtration system.
In addition, the price includes a separate apartment for the housekeeper (19 m²).
Additional data
Guarded: Yes
Reception: Yes
Secure door: Yes
Video cameras: Yes
Alarm: Yes
Elevator
Swimming pool: Yes
Internet: Yes
Park: Yes
Bus: Yes
Tram: Yes
Fitness nearby: Yes
Pool nearby: Yes
Bank nearby: Yes
Pharmacy nearby: Yes
Nursery nearby: Yes
Kindergarten nearby: Yes
Primary school nearby: Yes
Grocery nearby: Yes
Location
Warszawa
Żoliborz
"Chcemy Żoliborza od morza do morza" – nie bez powodu to hasło widnieje na muralu Łukasza Rudnickiego przy Metrze Marymont. Sama nazwa wskazuje, że jest to piękna przestrzeń, z francuska "Joli Bord", co dokładnie oznacza "Piękny brzeg". Infrastruktura Żoliborza kształtowała się w latach 20. XX wieku, co można zauważyć przyglądając się architekturze willi i rezydencji zlokalizowanych wzdłuż klimatycznych, wąskich uliczek. Głównymi osiami stały się ulice Mickiewicza i Krasińskiego z Placem Inwalidów i Placem Wilsona. Pomiędzy ulicami rozpościera się przepiękny park Stefana Żeromskiego ze Starą Prochownią na środku, gdzie można dobrze zjeść, wypić i dotknąć kultury.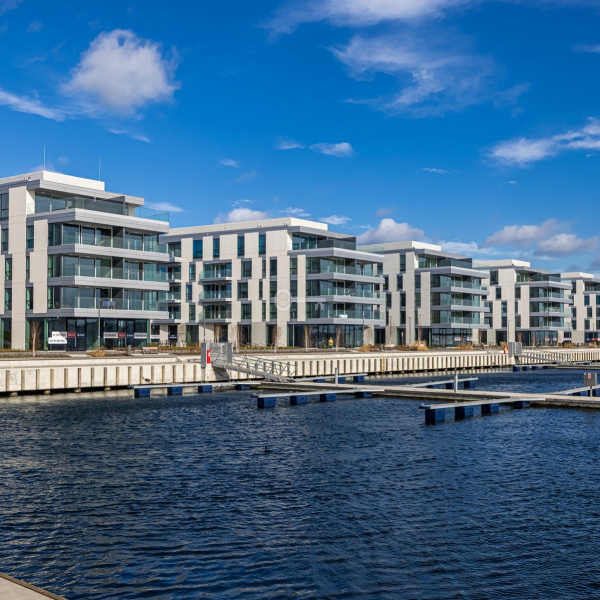 Investment
Yacht Park
. Investment:. The prestigious apartment complex was designed to ensure the comfort of its residents. The quality and extreme precision of its construction, will be evident in every inch. Yacht Park offers 135 unique apartments located in six 5-story buildings that will occupy an area of more than 6,000 square…
Offer no: 657731
The above proposal is not a commercial offer within the meaning of the law but is for information purposes. Partners International Sp. z o.o. makes every effort to ensure that the content presented in our offers is current and reliable. Data on offers was obtained on the basis of statements of the sellers.