Konstancin-Jeziorna, Konstancin-Jeziorna, Strefa A
A UNIQUE, SPACIOUS, MODERN RESIDENCE WITH A SWIMMING POOL IN A ZONE A LOCATED ON A SUNNY PLOT!
A modern house with an area of ​​459.44 m2 with 10 bedrooms and 12 bathrooms, designed by Marcin Rubik, an architect awarded with many prestigious awards.
The house is characterized by large glazing – the wall in the living room from the garden side is completely glazed. The rooms are 3 meters high, which makes a great impression. The house is finished with precious materials, oak floors, tiles, wooden cladding. Modern bathrooms, large tiles in earth tones and modern fittings.
The house is situated on a beautiful, sunny plot of 1938 m2.
A beautifully landscaped garden designed by the renowned company Gardenarium Ms Danuta Młoźniak is a huge advantage of this property. More than 1,500 plants have been planted in harmonious greenery in the garden – mainly yews, hydrangeas, rhododendrons and various types of grass. Lighting with modern lamps and spotlights over 50 points. The garden is equipped with automatic irrigation.
The house is ecological, built in energy-saving technology, equipped with triple-glazed aluminum windows with high thermal parameters, underfloor heating controlled in each room, ventilation with heat recovery. The swimming pool has its own heat pump.
Location of the house: entrance and entrance to the house from the north, living room, kitchen and terrace, south-west exposure.
The house has a very functional layout and can be used as two separate houses.
 Ground floor 271m2
o Garage for 2 cars with a 35.64 m2 boiler room
about the dressing room
o The kitchen is fully equipped with Italian modern furniture in white and gray and Samsung appliances 17.40 m2
o Living room of 49.26 m2 with glazing along the entire length of the wall and access to the terrace with an area of ​​150 m2 and the swimming pool. Goat Jotul F 370 Advance in the living room.
o 4 bedrooms (15, 17, 16, 17 m2) each with a bathroom and a wardrobe
o Laundry
o Utility room
o Elevator shaft and halls to the staircase leading to the first floor
 Floor: 188 m2
o 6 bedrooms (12 – 15 m2) each with a bathroom
o Living room with a kitchenette / bar, 53.13 m2, and access to a terrace with an area of
o 2 technical rooms
o Elevator shaft
In the driveway there is a modern Gala Beton concrete block, gray slabs, dimensions 45×45 and at the entrance 80 x 80. Additional 100m2 of ecological grate with grass. Number of parking spaces in the driveway and 8 and 2 parking spaces in the garage.
LOCATION:
The house is located on a villa estate in a beautiful and quiet part of Konstancin, a large garden with old trees and a very nice neighborhood are the undeniable advantages of this property.
Plot dimensions: 38.44 m wide x 50.41 m deep.
Additional information:
• air conditioning installation – distributed to all rooms
• optical fiber connected
• satellite and common antenna, aerial and internet sockets available in every room
• monitoring system and cameras
I cordially invite you to the presentation !!!!
Additional data
Bright kitchen: Yes
Terrace: 1
Storage: 1
Parking: 5
Garden: 1
Condition: perfect
Location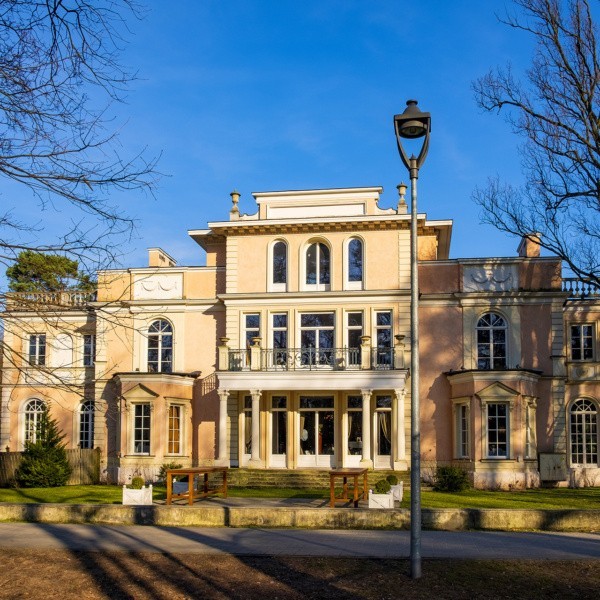 Konstancin-Jeziorna
Strefa A
Konstancin Jeziorna to urocza miejscowość położona niedaleko, około 20 km, od centrum Warszawy. Pomimo bliskości dużego miasta, Konstancin zachował swój uzdrowiskowy charakter. Niewiele ponad sto lat temu były to lasy należące do majątku ziemskiego rodziny hrabiów Potulickich, dziś również Konstancin wzbudza zainteresowanie zamożnych person uciekających z warszawskiej aglomeracji. Strefa A w Konstancie to wypoczynkowe miasto-ogród na skarpie pradoliny Wisły, wzdłuż rzeki Jeziorki – cicha i zielona alternatywa, dla tych, którzy chcą zostawić miasto w tyle,
Offer no: 725371
The above proposal is not a commercial offer within the meaning of the law but is for information purposes. Partners International Sp. z o.o. makes every effort to ensure that the content presented in our offers is current and reliable. Data on offers was obtained on the basis of statements of the sellers.