Warszawa, Mokotów, Sadyba
Detached house in Sadyba
DETACHED VILLA IN A GREAT LOCATION
The simple shape of the building, beautiful garden and perfect location – the heart of Warsaw's old Sadyba, are the main advantages of this property.
Sadyba, in the design assumptions of the City – the Czerniaków Garden, was planned in the 1920s as a housing estate with villas for senior officials.
The street was built during the construction of the City-Czerniaków estate in the former fortress areas. The street was built in 1924-1939. It consisted mainly of single-family houses surrounded by gardens.
A walk through the streets of Sadyby with avenues of trees and intimate buildings makes an extraordinary impression on passers-by. Here, among the modern metropolitan buildings, a small-town climate appears.
A SPACIOUS HOUSE WITH GREAT POTENTIAL
The house, hidden in greenery, has great potential to become the most beautiful house in Old Sadyba. Four floors – with a beautiful high attic, two high floors and a basement create the possibility of creating a luxury single-family villa or a modern tenement house with spacious apartments;
Remaining elements of handrails and barriers from the 1920s emphasize the unusual and wonderful atmosphere of the property.
A large plot with old trees and numerous plantings perfectly fits into the assumptions of the City of Czerniaków Garden.
THE HEART OF SADYBY THE HEART OF WARSAW
The current urban assumptions and the trend of a collage of old urban fabric and modern social facilities – international schools, shopping centers, restaurants make apartment in Sadyba one of the best and most desirable housing estates in Warsaw.
Additional data
Terrace: 1
Basement: 1
Attic: 1
Parking: 1
Garden: 1
Condition: for renovation
Location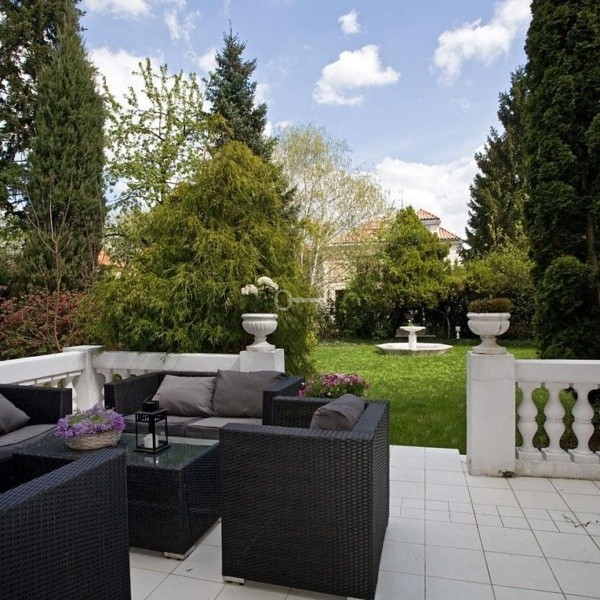 Mokotów
Sadyba
Sadyba to osiedle zlokalizowane w południowej części Mokotowa. Jedną z granic jest naturalny zbiornik wodny Jeziorko Czerniakowskie, które wraz z zielenią dookoła stanowi Rezerwat Przyrody. To niezwykłe miejsce na spacery, urządzanie pikników, a nawet kąpiele w jeziorze. Nazwa osiedla "Sadyba" wywodzi się z założonej w 1923 r. Oficerskiej Spółdzielni Budowlano-Mieszkaniowej "Sadyba", która budowała domy dla wysoko postawionych oficerów. Kameralna uliczki znane są ze szlaków latarni gazowych i pięknych willi budowanych z rozmachem.
Offer no: 941494
The above proposal is not a commercial offer within the meaning of the law but is for information purposes. Partners International Sp. z o.o. makes every effort to ensure that the content presented in our offers is current and reliable. Data on offers was obtained on the basis of statements of the sellers.