Konstancin-Jeziorna, Konstancin-Jeziorna, Strefa A
CLASSIC RESIDENCE | Konstancin, zone A,
BEAUTIFUL RESIDENCE IN KONSTANCIN – JEZIORNA | CLASSIC | TIMELESS | STYLISH | COMFORT AND FUNCTIONALITY
HOUSE IN "ZONE A" | GARDEN | MODERNITY | FUNCTIONAL INTERIOR | QUIET AREA | CLOSE TO THE SPA PARK | CLASSIC WITH MODERNITY |
LOCATION:
Konstancin-Jeziorna. Just like over a hundred years ago, in the times when these forests belonged to the estate of the counts Potulicki family, today these areas arouse the constant interest of wealthy people fleeing the Warsaw agglomeration. A holiday garden city on the escarpment of the Vistula proglacial valley, along the Jeziorka River, a quiet and green alternative for those who want to leave the city behind. Konstancin is famous for its spas and beautiful buildings. First of all, these are houses created with a flourish, a good design, planned with the greatest attention to every detail. Konstancin also houses the largest American school, making it an extremely popular place to live for expats sending their children to this school.
HOUSE STANDARD:
A representative house, built in 2008, with an area of 520m2, located on a plot of 3300m2 in a quiet street of Konstancin.
The design of the villa has been refined down to the smallest detail, from the basement to the attic. Designers took care not only about the aesthetics of the interior, but above all they combined design with functionality.
The villa is spacious, with a comfortable arrangement of rooms – it can accommodate a large family who loves spending time outdoors, garden-party enthusiasts or lovers of open spaces.
The brightness of the interior is ensured by large windows and an appropriate selection of colors and accessories. The villa has as much as 520 m2 spread over a total of three floors.
The house is also equipped with heat pumps, which makes the cost of maintaining this beautiful villa equal to maintaining a 100-meter apartment in the center of Warsaw.
The property is located on one of the quieter streets of Konstancin, thus guaranteeing no noise and a lot of peace. At the same time, due to its location, it is well connected with the heart of the town.
It is also worth mentioning the beautiful, green surroundings of the villa – the garden is a place where lovers of vegetation and greenery will immediately fall in love! The garden is equipped with a self-contained irrigation system and a separate well with water for watering the plants. An additional advantage is a roofed gazebo with a year-round jacuzzi.
ROOM LAYOUT:
Ground floor:
– Representative hall
– Kitchen
– Dining room
– Living room with fireplace
– Office
– Dressing room
– Garage for 3 cars
– TOILETS
– 2 Bathrooms
Floor:
– Master bedroom with balcony, dressing room and bathroom
– Bedroom (or two separate rooms) with balcony and terrace, own bathroom and dressing room
– A bedroom with a terrace
Basement:
– Library/playroom with fireplace and pool table
– Sauna
– TOILETS
– Bathroom
– Laundry
– Boiler room
– Storage
Attic:
A large open space can act as a playroom or an additional room for guests.
Feel free to visit this an amazing propety!
Additional data
Bright kitchen: Yes
Furnishings: Maybe
Terrace: 1
Garage: 1
Garden: 1
Location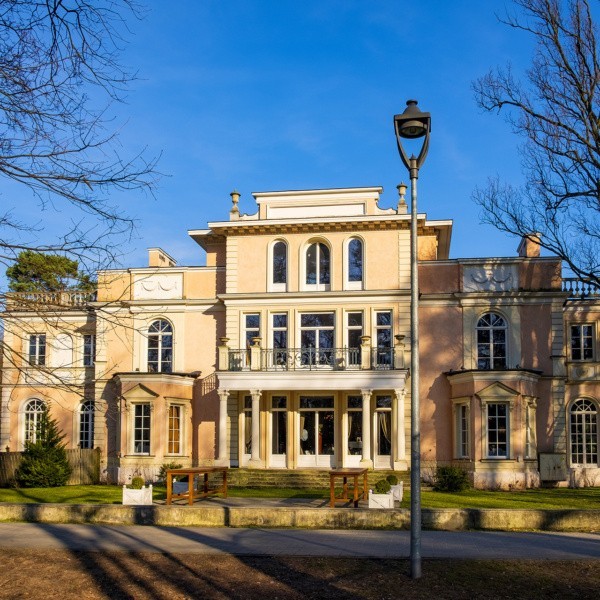 Konstancin-Jeziorna
Strefa A
Konstancin Jeziorna to urocza miejscowość położona niedaleko, około 20 km, od centrum Warszawy. Pomimo bliskości dużego miasta, Konstancin zachował swój uzdrowiskowy charakter. Niewiele ponad sto lat temu były to lasy należące do majątku ziemskiego rodziny hrabiów Potulickich, dziś również Konstancin wzbudza zainteresowanie zamożnych person uciekających z warszawskiej aglomeracji. Strefa A w Konstancie to wypoczynkowe miasto-ogród na skarpie pradoliny Wisły, wzdłuż rzeki Jeziorki – cicha i zielona alternatywa, dla tych, którzy chcą zostawić miasto w tyle,
Offer no: 163105
The above proposal is not a commercial offer within the meaning of the law but is for information purposes. Partners International Sp. z o.o. makes every effort to ensure that the content presented in our offers is current and reliable. Data on offers was obtained on the basis of statements of the sellers.