Mokotów, Sadyba, Limanowskiego Bolesława
156m2 | 4 rooms | Right next to the British School
MODERN APARTMENT NEAR THE BRITISH SCHOOL
IDEAL FOR A FAMILY | 4 ROOMS | 2 TERRACES | 2 PARKING PLACES
*****
MAIN ADVANTAGES:
The British School is located right next to the estate. Within the estate there are very well-maintained common areas with a children's playground and places to rest. The estate is guarded and monitored 24/7.
APARTMENT:
The apartment is perfectly lit, bright and spacious.
Beautiful wooden parquet warms its interior.
Three bedrooms, you can arrange them in your own way.
The living room is connected to the semi-open kitchen and has access to the terrace.
The apartment has many spacious built-in wardrobes.
The apartment is equipped with high-quality home appliances and electronics.
All windows have anti-theft blinds. The apartment has an alarm system.
LOCATION:
Sadyba is one of the most charming parts of Warsaw's Mokotów, with almost 100 years of history. Its oldest part was created in the early 1920s for high-ranking officers of the Polish Army and senior government officials.
Today Sadyba is full of historic atmospheric houses, residences of ambassadors and headquarters of small companies. Good communication with the city centre (15 minutes by car, fast bus connections), friendly atmosphere, security and the immediate proximity of the most renowned international schools make it an ideal place to live.
ADDITIONAL INFORMATION:
Wymaga jest kaucja, opłaty licznikowe płatne dodatkowo.
I invite you to the presentation.
Additional data
Bright kitchen: Yes
Furnishings: Maybe
Terrace: 1
Basement: 1
Underground parking: 1
Intercom: Yes
Guarded: Yes
Gated: Yes
Secure door: Yes
Blinds: Yes
Video cameras: Yes
Monitoring: Yes
Alarm: Yes
Elevator: Yes
Condition: very good
Phone: Yes
Internet: Yes
Television: Yes
Water: Yes
Current: Yes
Park: Yes
Bus: Yes
Bank nearby: Yes
Pharmacy nearby: Yes
Nursery nearby: Yes
Kindergarten nearby: Yes
Primary school nearby: Yes
Grocery nearby: Yes
Location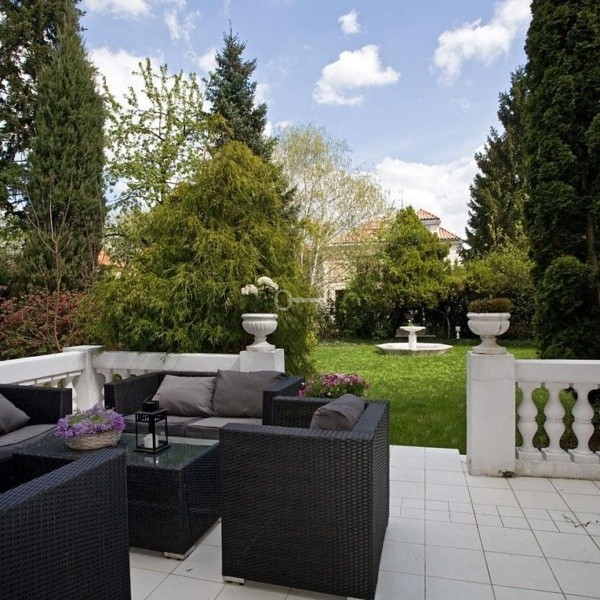 Mokotów
Sadyba
Sadyba to osiedle zlokalizowane w południowej części Mokotowa. Jedną z granic jest naturalny zbiornik wodny Jeziorko Czerniakowskie, które wraz z zielenią dookoła stanowi Rezerwat Przyrody. To niezwykłe miejsce na spacery, urządzanie pikników, a nawet kąpiele w jeziorze. Nazwa osiedla "Sadyba" wywodzi się z założonej w 1923 r. Oficerskiej Spółdzielni Budowlano-Mieszkaniowej "Sadyba", która budowała domy dla wysoko postawionych oficerów. Kameralna uliczki znane są ze szlaków latarni gazowych i pięknych willi budowanych z rozmachem.
Offer no: 441224
The above proposal is not a commercial offer within the meaning of the law but is for information purposes. Partners International Sp. z o.o. makes every effort to ensure that the content presented in our offers is current and reliable. Data on offers was obtained on the basis of statements of the sellers.