Konstancin-Jeziorna, Strefa A, Wojewódzka
RESIDENCE OF 480M2 with a swimming pool and sauna,
RESIDENCE OF 480M2 WITH BASIN AND SAUNA, IN THE ZACISZ IN KONSTANCINA.
MINERIAL ATTRIBUTES:
A spacious villa, with a fantastic layout of rooms dedicated to the family, as well as to people who love to host and arrange more than one party.
An indoor swimming pool and a tennis court.
The brightness of the interiors is ensured by large windows and the right choice of colors and accessories.
The property is located on one of the quieter streets of Konstancin thus guaranteeing the absence of noise and really a lot of peace.
LAYOUT OF FACILITIES:
First floor:
– Spacious living room with dining area, in the lounge area fireplace, and entrance to the conservatory
– kitchen
– guest toilet
– Cinema room
– Entrance hall with closet
– Pool area
– Sauna
First floor:
– Master bedroom air-conditioned with bath room and large dressing room and TV room.
– Bedroom with bathroom and with conservatory with access to the terrace
– Children's bedroom
– Room
Basement:
– Convenient garage for 2 large cars
– Laundry room
– Bathroom
– Room
– Technical room
LOCATION
Constancin-Jeziorna is the most prestigious place near Warsaw famous for its spas and beautiful residences. Konstancin, in addition to the wonderfully fresh air, offers residents a beautiful park with graduation towers, shopping mall "Stara Papiernia" and proximity to Kabaty forest.
Constancin is also home to the largest American school, making it an extremely popular place to live for expats sending their children to this particular school. Konstancin also has quick access to Chopin Airport via the new S2 route.
Location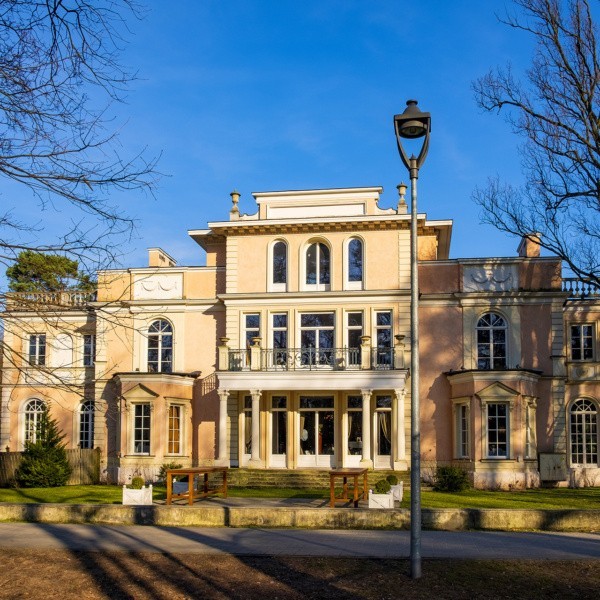 Konstancin-Jeziorna
Strefa A
Konstancin Jeziorna to urocza miejscowość położona niedaleko, około 20 km, od centrum Warszawy. Pomimo bliskości dużego miasta, Konstancin zachował swój uzdrowiskowy charakter. Niewiele ponad sto lat temu były to lasy należące do majątku ziemskiego rodziny hrabiów Potulickich, dziś również Konstancin wzbudza zainteresowanie zamożnych person uciekających z warszawskiej aglomeracji. Strefa A w Konstancie to wypoczynkowe miasto-ogród na skarpie pradoliny Wisły, wzdłuż rzeki Jeziorki – cicha i zielona alternatywa, dla tych, którzy chcą zostawić miasto w tyle,
Offer no: 184064
The above proposal is not a commercial offer within the meaning of the law but is for information purposes. Partners International Sp. z o.o. makes every effort to ensure that the content presented in our offers is current and reliable. Data on offers was obtained on the basis of statements of the sellers.